Celebrate National American Indian Heritage Month: a Journals Reading List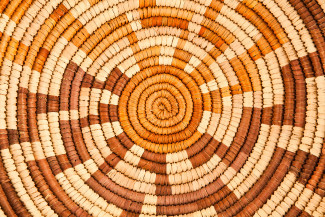 "Heritage Month is a time to educate the general public about tribes, to raise a general awareness about the unique challenges Native people have faced both historically and in the present, and the ways in which tribal citizens have worked to conquer these challenges."
-
The National Congress of American Indians
November is National American Indian Heritage Month, an annual celebration that honors the Indigenous people of the United States, commemorating their histories, cultures, and contributions. Research by and about American Indians abounds in the journals published by Johns Hopkins University Press. The collection below is just a small sample of Native American scholarly work from a variety of disciplines. All of the links below have been made freely available through the month of November. 

Conversing with Letters: Cherokee-Language Perseverance and Preservation
Ellen Cushman, Naomi Trevino
American Quarterly
Volume 73, Number 3, September 2021
Indigenous Graduate and Professional Students Decolonizing, Reconciling, and Indigenizing Belongingness in Higher Education
Adam J. Alejandro, Carlton J. Fong, and Yvonne M. De La Rosa
Journal of College Student Development
Volume 61, Number 6, November-December 2020
Race War, Climate Crisis, Indigenous Witness and the Bible: The Word of Water
James W. Perkinson
Spiritus: A Journal of Christian Spirituality
Volume 20, Number 2, Fall 2020
Oka Apesvchi: Indigenous Feminism, Performance, and Protest
Bethany Hughes
Theatre Journal
Volume 72, Number 2, June 2020
Rewriting and Rerighting Indigenous Histories
Andrew H. Fisher
Reviews in American History
Volume 48, Number 1, March 2020
Indigenous-Washing and the Petro-Hero in Genre Fictions of the North American Oil Boom
Sara L. Crosby and Anna J. Willow
MFS: Modern Fiction Studies
Volume 66, Number 1, Spring 2020
"The Finest Men We Have Ever Seen": Reading Jefferson's Osage Encounters through Orientalism
Robert Warrior 
ariel: A Review of International English Literature
Volume 51, Number 1, January 2020
Connecting Indigenous Song Archives to Kin, Country and Language
Clint Bracknell
Journal of Colonialism and Colonial History
Volume 20, Number 2, Summer 2019
Trauma, History, the Indigenous Novel, and the Now
Angela Calcaterra
Studies in the Novel
Volume 51, Number 1, Spring 2019
Developing a Curriculum for Change: Water and Environmental Health Literacy in a Native American Community
Deborah LaVeaux,Vanessa W. Simonds, Velma Picket, Jason Cummins, and Erin Calkins
Progress in Community Health Partnerships: Research, Education, and Action
Volume 12, Issue 4, Winter 2018

The Engaged Dissertation—Conducting Community–Based Participatory Research with Rural Indigenous Communities as a Graduate Student
Jana Wilbricht
Narrative Inquiry in Bioethics
Volume 7, Number 1, Spring 2017
Indigenous Studies
K. Tsianina Lomawaima
American Quarterly
Volume 68, Number 1, March 2016
Performing Serpent Mound: A Trans-Indigenous Meditation
Chadwick Allen
Theatre Journal
Volume 67, Number 3, October 2015
Advancing an Indigenous Ecology within LIS Education
Loriene Roy
Library Trends
Volume 64, Number 2, Fall 2015
Indigenous Circuits: Navajo Women and the Racialization of Early Electronic Manufacture
Lisa Nakamura
American Quarterly
Volume 66, Number 4, December 2014
This Is Progress?: Surveying a Century of Native American Stories about Hair
Diana Lopez Jones
The Lion and the Unicorn
Volume 37, Number 2, April 2013
Ghost Dancing and the Iron Horse: Surviving through Tradition and Technology
Alex Ruuska
Technology and Culture
Volume 52, Number 3, July 2011
(Re)Mapping Indigenous Presence on the Land in Native Women's Literature
Mishuana Goeman
American Quarterly
Volume 60, Number 2, June 2008
American Indians, American Studies, and the ASA
Philip J. Deloria
American Quarterly
Volume 55, Number 4, December 2003
Academic Persistence Among Native American College Students
Aaron P. Jackson, Steven A. Smith, and Curtis L. Hill
Journal of College Student Development
Volume 44, Number 4, July/August 2003

Login to View & Leave Comments
Login to View & Leave Comments