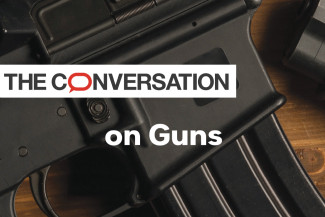 With the recent mass shooting in Maine and troubling trends in gun violence continuing to rise, it's more imperative than ever to find a solution to this epidemic.
In The Conversation on Guns, editor James Densley brings together a group of expert scholars to explore the role of guns in US society and the tragic impacts of gun violence. From the many forms of gun violence to effective and innovative public health and community-led initiatives to curb it, the authors discuss how and why guns are deeply rooted in American history and culture by examining both the politics and policies around gun safety. Grounded in the latest research, these short and accessible articles written by experts in criminal justice, law, sociology, public health, history, and education explain how the United States became so saturated with guns and what the prevalence of guns is doing to our society.
The Critical Conversations series collects essays from top scholars on timely topics, including water, biotechnology, gender diversity, and more, originally published on the independent news site The Conversation.
Login to View & Leave Comments
Login to View & Leave Comments