New School President Dwight McBride on "A Rising Tide Lifts All Boats"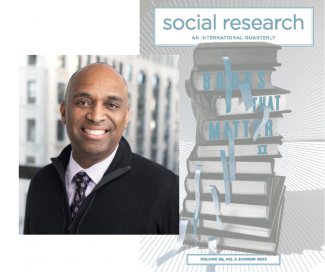 Hopkins Press is honored to welcome to this episode President of The New School in New York City, Dr. Dwight McBride. Dr. McBride became the university's ninth President in April of 2020.

Dr. McBride is an accomplished higher education leader, educator, scholar, and author. Over nearly three decades in higher education, he has encouraged innovation in scholarship and teaching, launched initiatives to build interdisciplinary strength around global challenges, created environments that foster inclusive excellence, and expanded opportunities for experiential learning.

The Summer 2022 issue of the journal Social Research, Books That Matter II, invited notable scholars to select one book that had a deep and lasting influence on their thinking and life. Dr. McBride's essay, "A Rising Tide Lifts all Boats", reflects on Phillis Wheatley's Poems on Various Subjects. He joined us to discuss his essay, which not only details Wheatley's remarkable life and writing, but examines what over 200 years of analysis and criticism of Wheatley's work can show us about the history of racism in the United States and her enduring impact on African American literature. 
Login to View & Leave Comments
Login to View & Leave Comments