Hopkins Press and NSTA Bring New Lesson Plans to Educators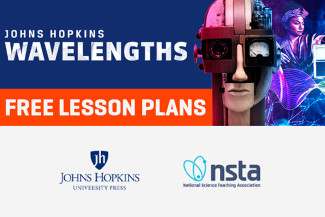 Free Lesson Plans Showcase Cutting-Edge Science Research to Spark Curiosity and Increase Student Understanding of Some of the World's Most Complex Challenges
ARLINGTON, VA, October 11, 2023 — Johns Hopkins University Press (JHUP) and the National Science Teaching Association (NSTA) have joined together to bring new, free, classroom-ready lesson plans to middle school and high school science and STEM teachers nationwide.
Launched today, the Johns Hopkins Wavelengths: Tuning In to Cutting-edge Sciences lesson plans will connect the pioneering discoveries and solutions of Johns Hopkins researcher-professors to classrooms across the country. These team-based lessons will inspire student curiosity and engagement and increase understanding about some of the world's most pressing issues and intriguing opportunities. Three of the initial lesson plans in the series, and the books that inspired their development, are now available for download at https://www.nsta.org/jhu-wavelengths. 
"We're thrilled that the groundbreaking work of eminent researchers at Johns Hopkins University has been transformed into these evidence-based, illuminating lesson plans for educators and their students. We hope that classroom investigations and lively discussions based on these lessons will inspire students toward potential career paths in the sciences—and futures bright with the satisfaction of discovery and problem solving," said Barbara Kline Pope, Executive Director of JHUP.
Each Johns Hopkins Wavelengths lesson plan, called an NSTA Daily Do, provides an opportunity for students to learn about cutting-edge research and is designed around the critical aspects of sensemaking. Through this approach, students actively engage in a learning experience to make sense of phenomena in a meaningful way that aligns with their natural curiosity. The lessons' subjects include artificial intelligence (co-authored by Dr. Rama Chellappa); sustainable and equitable food systems (Dr. Jessica Fanzo); and the interior forces of planets (Dr. Sabine Stanley).
"We're excited about our collaboration with Johns Hopkins University Press to connect the innovative work and inspiring stories of these scientists to teachers and their students through phenomena-driven, research-based instructional resources that create a collaborative student-centered learning environment where science ideas are accessible and engaging for all students," said Erika Shugart, Ph.D., CEO and Executive Director of NSTA.
Later this month, the newest Johns Hopkins Wavelengths lesson plan, Why are most auroras observed near the North and South Poles?, will be featured in a special session with JHU professor and author Dr. Sabine Stanley during the NSTA National Conference on Science Education in Kansas City. In addition to learning about the new resource, participants will discover how using a sensemaking approach to teach planetary science can help inspire students to pursue careers in STEM.
JHU's Assistant Vice Provost for Research, Julie Messersmith, added: "It's more important than ever for academic research—and its hallmark methods—to lend understanding on topics of societal importance to our citizens, and the world beyond our borders. Through this partnership with NSTA, science teachers nationwide will bring Johns Hopkins researchers' knowledge and experiences from their classrooms, laboratories, and field stations to this next generation, in support of the longstanding mission of the university."
Companion resources, including a collection of mentorship-centered profile videos that support career-connected learning and highlight STEM career pathways, are also available to educators through the site.
The fourth lesson plan in the series, designed for secondary school educators and co-authored by JHU's Dr. Arturo Casadevall, will focus on a pressing societal phenomenon related to fungi and will be available in Spring 2024. For more information, including access to the resources, visit https://www.nsta.org/jhu-wavelengths. 
About Johns Hopkins Wavelengths
In Baltimore and around the world, the Bloomberg Distinguished Professors of Johns Hopkins University examine and resolve many of the world's most complex challenges, and explore the most exciting frontiers. The Wavelengths book series and public engagement program, a partnership between the University's Press and Office of Research, presents their inspiring stories, pioneering discoveries and bold innovations that benefit communities in their neighborhoods and across the globe in artificial intelligence, cancer research, epidemiology, food systems, health equity, marine robotics, planetary science, science diplomacy, and other critical areas of study. These engaging narratives expand our understanding of these vital areas of study, and spark conversations from classrooms to dining rooms to boardrooms. For more information about Wavelengths, please contact Anna Marlis Burgard, Director of Strategic Engagement, at aburgar1@jhu.edu. 
About NSTA
The National Science Teaching Association (NSTA) is a vibrant community of 40,000 science educators and professionals committed to best practices in teaching science and its impact on student learning. NSTA offers high-quality science resources and continuous learning so that science educators grow professionally and excel in their careers. For new and experienced teachers alike, the NSTA community offers the opportunity to network with like-minded peers at the national level, connect with mentors and leading researchers, and learn from the best in the field. For more information, visit www.nsta.org, or follow NSTA on X, Facebook, Instagram, YouTube, and LinkedIn.
# # #
Contacts:
Kait Howard, JHUP
kehoward@jhu.edu   
667-306-8501
Kate Falk, NSTA
kfalk@nsta.org  
703-312-9211
 
Login to View & Leave Comments
Login to View & Leave Comments